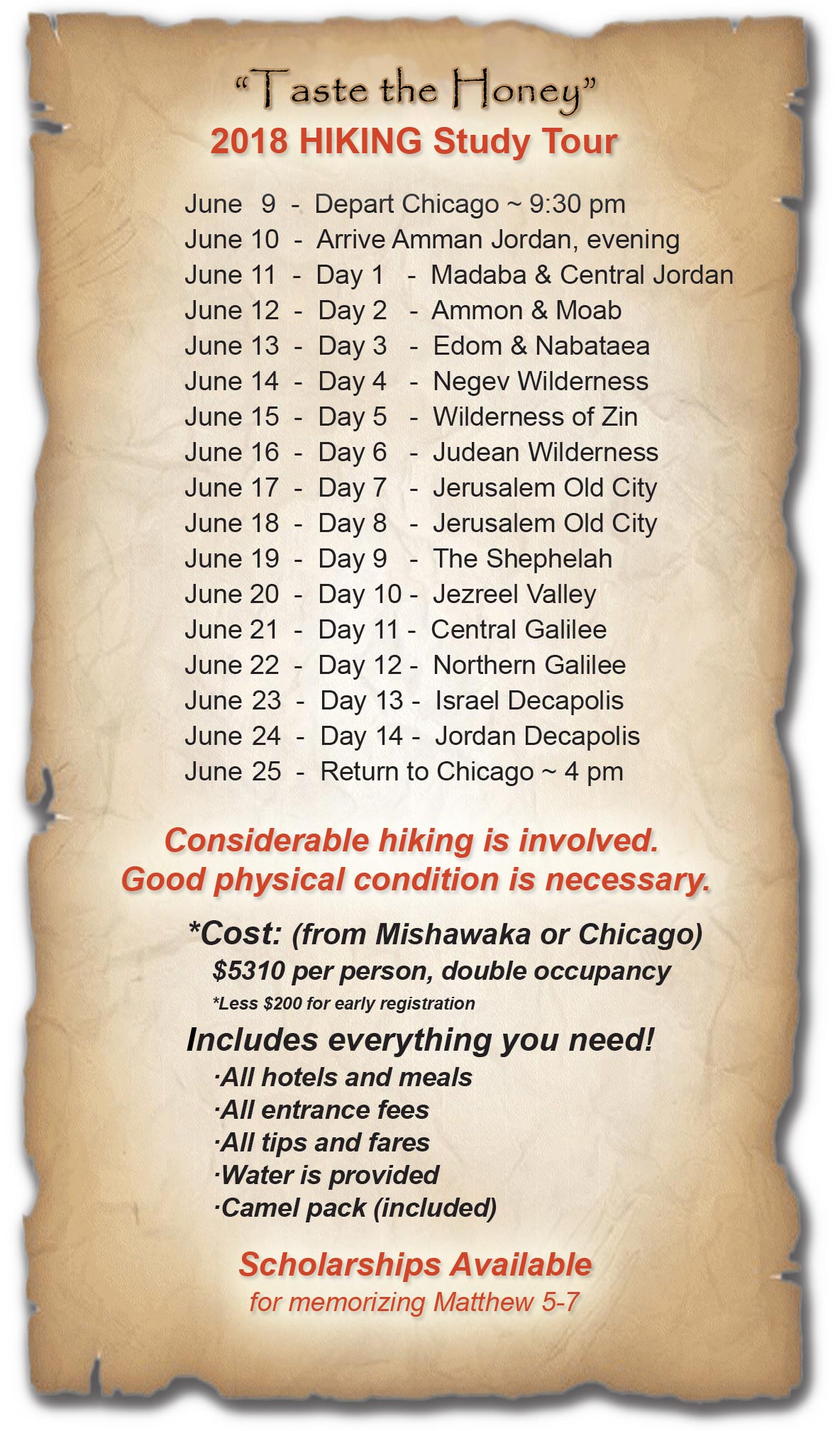 Need-based scholarships are available for anyone requiring financial assistance to make this trip possible. In the event that scholarship funds are limited, priority will be given to:
Regular attenders of The Sabbath Gathering
Pastors, missionaries, and others in full-time Christian service (including their dependents)
Fill-time high school or college students
Send in the scholarship application then memorize Matthew 5-7 one chapter at a time, in the version of your choice. It sounds harder than it really is… Try it – you will be blessed beyond belief!
"Taste the Honey"
Israel-Jordan Hiking Study Trip
June 9 – 25, 2018

Dr. Wyn Laidig, Trip Leader
Wyn is the leader and teacher on this study trip. His passion for the Word of God and for the Jewish roots of our faith is truly contagious. Expect to be blessed beyond measure! Contact Wyn if you have specific questions about the teaching, itinerary, or scholarships.
This is a very physical trip designed for those who are in good physical condition and want to experience God in an all new way…through Eastern eyes! Please read the "How to Prepare" page for more information on the difference between hiking trips and walking trips. This is called a "hiking trip", and in fairness to the others signing up for this trip, you do need to be in good physical condition.
Expect a rewarding and challenging teaching trip – physically, mentally, and spiritually. It is a 17-day learning experience with 15 nights and 14 full days in Israel and Jordan. We'll pack more into these 17 days then most tours will do in 3 or 4 weeks, and we'll do it in a non-traditional way. Sometimes, this means avoiding traditional tourist sites, and instead exploring off-the-beaten-path locations in order to help us experience a truer picture of the life and culture in Biblical times.
This trip is open to anyone wishing to participate.
Scholarships
are available.
Cost: (from Mishawaka, IN or Chicago O'Hare)
Total cost is $5310 per person*, double occupancy.
Single occupancy add ~$1150.
* Based on 25 participants
For further information:
Regarding teaching, itinerary or scholarships:
Wyn Laidig
at (574)-252-2452
Regarding registration, travel, & payments:
Signe Koning
at
GTI Tours
(800)-829-8234